(aka Disney's Arctic Endurance Challenge)
Since the cold weather, make that really, really cold weather, was a possibility for the races and even though I fully expected the 10 day and farther out forecasts to be wrong, I still packed all my cold weather gear (of which I have little, being from southeast Texas). As the races approached it was seeming increasingly likely that the weather would be bad, and it was with near 30 degree temperatures, wind, rain and sleet as we stood around for the start of Saturday's half marathon.
I set the typical 3 alarms to wake up at 2:30am to make sure I would be on the bus by 3:30am (last bus out at 4:00am). I checked the current weather and it said 40 degrees. I was ecstatic, after all it was supposed to be 10 degrees colder!!! I went out to check and it felt cold, but reasonable outside. I made my final clothing choices based on this and prepared to leave. By the time I had gotten to the staging area I noticed the wind was picking up and the temperature was dropping, so out comes the plastic poncho for a windbreak and body heat catcher. I walk the half mile or so to the staging area and meet up with some of the Team Voice friends for a bit. I made the mistake of checking in my bag early and looking for a few other friends that I couldn't find and then I couldn't find the Team Voice friends either. Most people were huddled together against the downwind side of the staging tents and wearing so much that you couldn't really tell who anybody was. Then sleet started to fall for a while. A little while later it was time to walk the mile plus down to the start area. I went to my corral alone as I was unable to locate anyone I knew and stayed at the back of Corral E. About 10 minutes before the race start Debra appears right near me, having had some transportation issues. We were not specifically planning to meet up, but it was good to see a familiar face.
After a short wait, and a lot of incessant talking by the DJ hosts over the loud speakers, the national anthem plays and fireworks go off. Then we wait for the crowd to move.
After about 21 minutes of waiting and shuffling forward, we begin the half marathon race. It is around 30 degrees out,windy and wet. Debra and I start at a decent pace given the crowds and are amused that many under-dressed people are going through the throw away clothes on the roadside to add extra layers. Debra and I are both run/walking different patterns but are staying fairly consistently together. The course runs us past the front of Epcot and towards the Magic Kingdom, although it is dark there is still some live entrtzinment along the way. After several miles, and still dark I start to get pelted with ice pellets falling from the sky for about 10 - 15 minutes, I am tempted to loudly ask what else could happen but didn't want to really tempt fate that much. Finally we reach the Contemporary Resort and the Magic Kingdom, and the fun really starts. Main Street of the Magic Kingdom is lined with cheering supporters who braved the cold weather to come and support the runners. In addition are various Disney characters appropriate for the Main Street theming. As we run right into Tomorrowland we start to see numerous Disney characters with photo opportunities throughout the entire run within the park. It's still dark at that hour as you can see by my photo with Stitch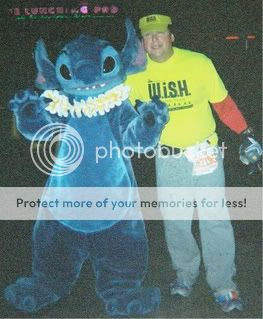 and a photo with Peter Pan and Wendy in Fantasyland as well.
and by the time I was passing under and through Cinderella's Castle the day was just starting to show some light of its own across lit up Main Street as viewed from the front of Cinderella's Castle.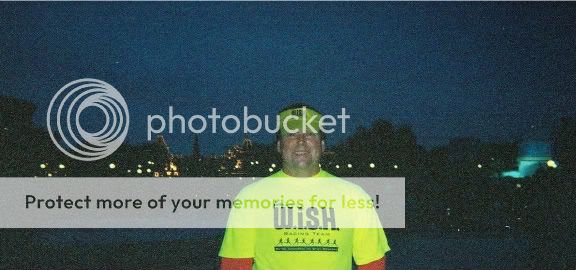 Then it was a turn through Liberty Square and out of the back of the park between Adventureland and Frontierland. Just outside of the park was a large pirate boat setup with Captain Jack Sparrow and crew posing for photos as we turned onto service roads and began the trip back to Epcot. By this time daylight was readily visible and there was quite a bit of entertainment along this road from accordion players to a lounge-type singer to piped in music, and of course more characters posing for photos. All this time Debra and I had been somewhat leap-frogging each other as we stopped for photo ops and continued running, during a stretch back towards Epcot I struck up a conversation with a runner named Mike and it turns out that he runs the
Be Our Guest
Disney Podcast. Now I do not listen to this podcast, but I will try it out, especially since Mike was nice enough to take my photo at mile marker 10.
The mile markers were sponsored by Sharpie and were definitely more creative than the standard mile marker I am used to seeing. Although it would of been nice if they had not put all the gun time clocks in the way of the signs. Continuing up the road we finally came within sight of Spaceship Earth at the front of Epcot. We do a final loop in the front of Epcot and I stop for one last photo with some Disney Channel characters
and then strip off my sweatpants so I can run the final half mile or so in my jungle print shorts that I bought for this race. Unfortunately, I don't have any photos of me in these shorts so you'll have to use your imagination. I run through the crowds and finish in 2:58:48. This was my second slowest half marathon time, but was right on my goal of 3 hours and left me feeling pretty good at the finish. Debra finished about a minute behind me and I got back with her after the finish.
I really wanted to hang around and cheer and watch friends come in, but it was so cold, wet and windy that I just grabbed my checked bag and headed to the bus stop for the trip back to the hotel. After I got back I soaked in a warm bath for about 20 minutes to warm up (definitely not my usual post race activity). A month earlier I had thought I raced in bad conditions in a near-freezing light rain in Austin, but this was easdily worse today. The weather aside, I had an absolutely awesome time and a wonderful experience--which is exactly what I wanted. A couple hours after the race I met up with some of my fellow runners from WISH Team Ohana for ice cream (can you tell this was planned before we knew what the weather would be?) at the Beaches & Cream shop at Disney's Beach Club Resort for restful conversation about tomorrow's full marathon....